I love painting minis. This is the main drive in why I originally decided to back the MB:P kickstarter, the miniatures looked way too good and the mythological aspect is something that resonates incredibly well with me. If you have any questions about my painting or critisism in general
(pref. constructive but please feel free to speak your mind!)
then please do so! I appreciate anything you have to say, more or less.
Until the real deal arrives I will be posting here about other things that I am painting and have painted before. These thing's will mainly consist of Warhammer, Kingdom Death and maybe smaller franchises like Avatars of War.
Anyway, to showcase some things I've done before that might serve as inspiration for what I'll paint in the future. I'm gonna post some Warhammer minis I've painted (and posted on another forum; Lustria), mainly being Lizardmen;
My purple dual-wielding Skink, got inspiration from another member on Lustria, and the piece it comes with a pretty funny story:
During the first painting session with this mini I had it all assembeled and done, but dropped it on the floor sadly. This resulted in the arm getting smashed off the shoulder, and after 4.5 hours of searching I declared it officially lost forever.
I found it again, of course, about 15 minutes after finishing the model (again) but with a different arm.
Another Lizardman that I've painted is my Skink chief, modified by myself (really basic stuff, just mixing up some parts and doing gods work with some pliers):
This was a really wild paintjob for me and it took its fair share of time to finish.
The blending on the back turned out pretty ok IMO but I was pretty sloppy at parts as well.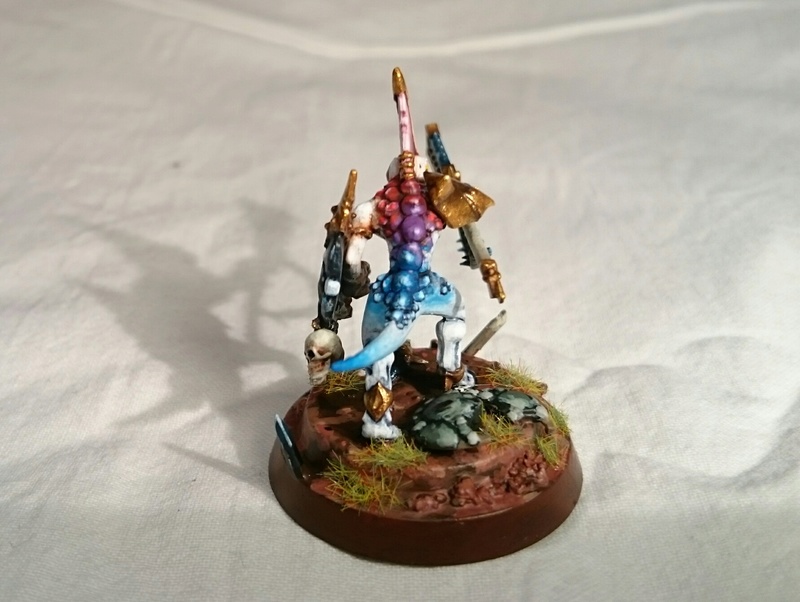 The test subject for my Skink Chief paint job was a regular little Skink that I dubbed
"The French Lizard"
for somewhat obvious reasons.
Also a pretty nice homage to MB:P's home land:
Not sure if it's frowned upon but you can find my personal painting blog on lustria-online, can't link to it ATM though (I'm not active on it at the time because of a somewhat recent move, I'll start posting there, and here, again soon). It is an unofficial forum for Warhammer's Lizardmen race with an awesome community, something that I'd love to see this forum turn into ( - the Warhammer Lizardmen part and + Mythic Battles boardgames).
These were a couple Skinks from Games Workshop's Warhammer Fantasy (Age of Sigmar) race -
Lizardmen
. They are my favorite Warhammer faction alongside Tomb Kings

 and will probably be most of what I post here until Pantheon is released!
Thanks for viewing and again, please speak your mind if you have anything on your heart.